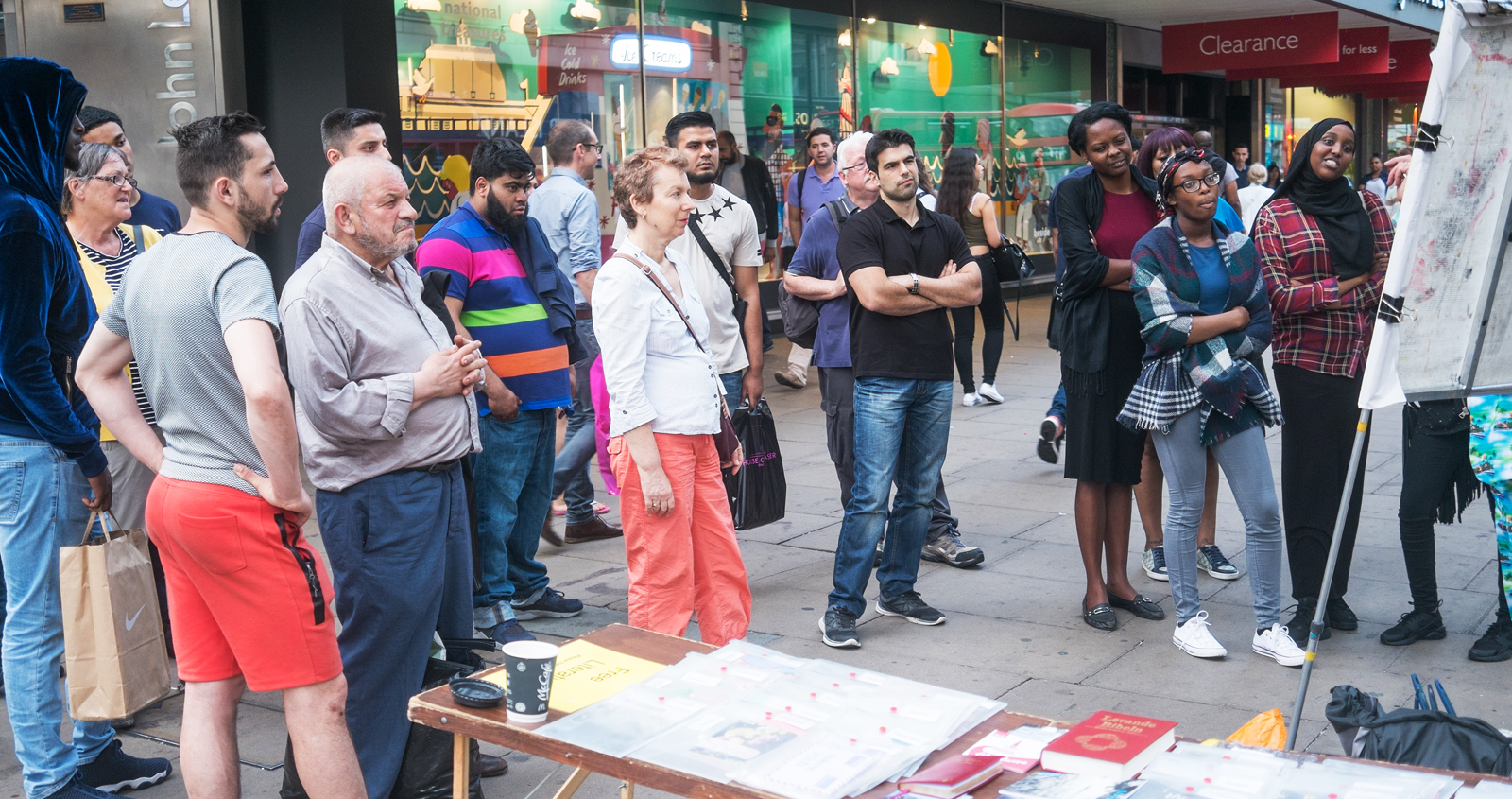 Streetwise evangelism training courses have had to be suspended due to the Coronavirus lockdowns. Please check back in the Spring of 2021 for more details.
We are running online evangelism training. More details can be found HERE.
Streetwise evangelism training is a 6 session course in street evangelism. The course takes place on one Saturday each month for six months. It is a practical, hands-on course that will sharpen your evangelistic skills. What's more, it will give you the confidence and ability to communicate the gospel on the streets. You will learn from experienced and gifted OAC street evangelists.
Location
In 2022 there will be Streetwise courses in London and Sheffield. Both courses will start on Saturday 8th January and run on the second Saturday of the month.
The London course will be taught by OAC Evangelists Steve Gurnett, Gareth Owen, Pete Kennelly, Dave Mwaniki and Marios Kaikitis.
The Sheffield course will be taught by OAC Evangelist Oliver Buckley and the Yorkshire team.
Course content
The course will cover the theology of preaching and the use of the sketchboard in the open air. In addition, topics include team work, personal evangelism and giving a Gospel invitation. Also advice will be given on how to deal with objections and how to use literature.
Each week the training will start in the church. Then trainees and course leaders will go out onto the streets to do some 'real time' evangelism. After each outreach there will be opportunity to reflect and feed back on the lessons learned.
Course details
The London course will be based at St John's Church, Broadway, Stratford, London E15 1NG.
The Sheffield course will be based at Central Elim Church, Lee Croft, Off Campo Lane, Sheffield S1 2DY.
Both days will start at 10 a.m. and finish at 3 p.m.
The course costs £25 per session or £130 for all six sessions. This includes notes and use of equipment. You can pay in instalments and a bursary may be available in some circumstances.
For more information about the course and to book your place contact Steve Gurnett, London Director at [email protected] or phone  07742 724132. Take me to the booking form.
The contact for the Sheffield course is Oliver Buckley email [email protected] or phone 07532 060123.
If you would prefer a residential streetwise evangelism training course click HERE.