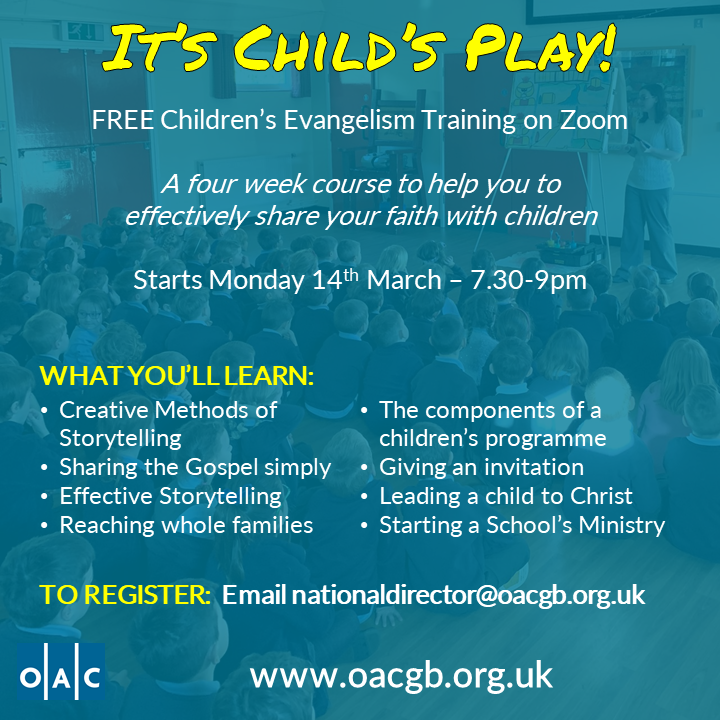 It's Child's Play
Do you want to learn how to share your faith with children? We are pleased to pass on our experience of working with children at a series of online sessions. OAC have been working with children for over 50 years. Our evangelists are regularly involved in camps, holiday clubs, kids clubs, church events and fetes and festivals. We also have one of the biggest schools programmes in the UK.
It's Child's Play is a FREE four session Zoom course starting on Monday 14th March from 1930 to 2100. The other sessions will be on 21st, 28th March and 4th April.
You will learn the principles of effective storytelling and different creative methods of telling a story. The course also covers how to plan a children's programme and how to set up a schools ministry. Most importantly it covers how to share the gospel with children and how to make an invitation.
It is important to know what you can and can't do in a school. And it is important to be aware of the safeguarding issues when you share your faith with children.
The course will be led by Steve Harris, Marten Holmes and Dawn Getley. Between them they have nearly 100 years of experience!
For more information or to register your interest contact us.