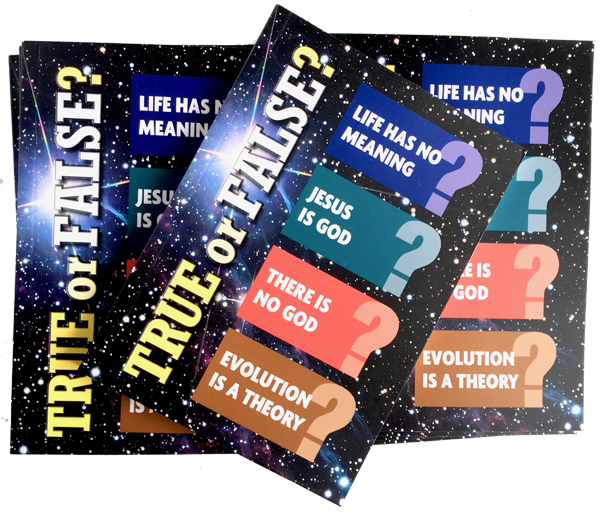 There is now a True or False Booklet to go with the True or False vinyl.
The True or False vinyl clips to the front of a sketchboard and has a number of questions that are designed to lead people into a conversation about life, God, heaven etc. Vinyls are a great resource and an alternative to the traditional sketchboard as they can be used in the rain and where there is not much footfall. The True or False Booklet is a great tool for street evangelism either alongside the vinyl or by itself.
The True or False Booklet has 64 pages which expand the discussion and answers relating to the eight questions on the vinyl. The booklet is more apologetic than evangelistic but is obviously an evangelistic tool too. Some sections are longer than others. The booklet is designed to give away to those people who you've had a good conversation with on the streets or maybe someone who didn't have time to talk at length.
You can order the booklet via the OAC website, from the OAC National Director or direct from Marios Kaikitis ([email protected]) who put the booklet and vinyl together.
Prices for the True or False Booklet are 60p plus p&p for quantities of 1-9 copies and 50p plus p&p if you buy more than 10 copies.
True or False vinyls can also be ordered from the same sources and can be viewed by clicking HERE.