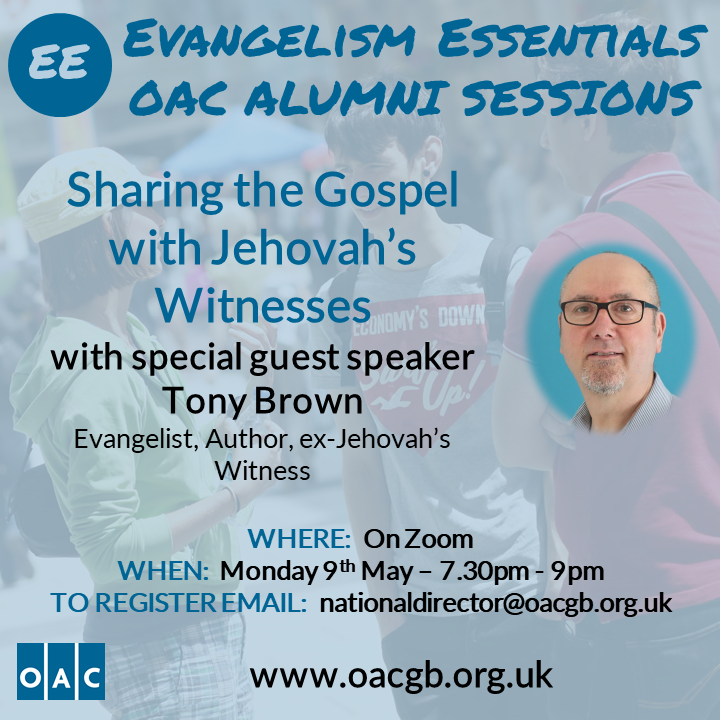 Since the first lockdown we have been successfully running online evangelism training courses. As a result of this success, we are now going to run some one-off sessions on apologetics for evangelism.
The first session on apologetics for evangelism will be entitled "Sharing the Gospel with Jehovah's Witnesses." This is FREE and will be online via Zoom. It will be held on Monday 9th May starting at 1930 and finishing at 2100.
The training will be hosted by OAC with special guest speaker Tony Brown.
Tony is an itinerant evangelist with the Association of Evangelists. He is a missionary/evangelist to those caught in New Religious Movements, especially Jehovah's Witnesses and Mormons. As a former JW, he is keen to help Christians share the truth in love with those trapped in falsehood.
If you would like to register for the above  free online training contact [email protected] to receive the log-in details.
Future Training
The next free online training course starts on Monday 19th September. The "Evangelism Essentials" training runs for 5 weeks. You can find more details  HERE.