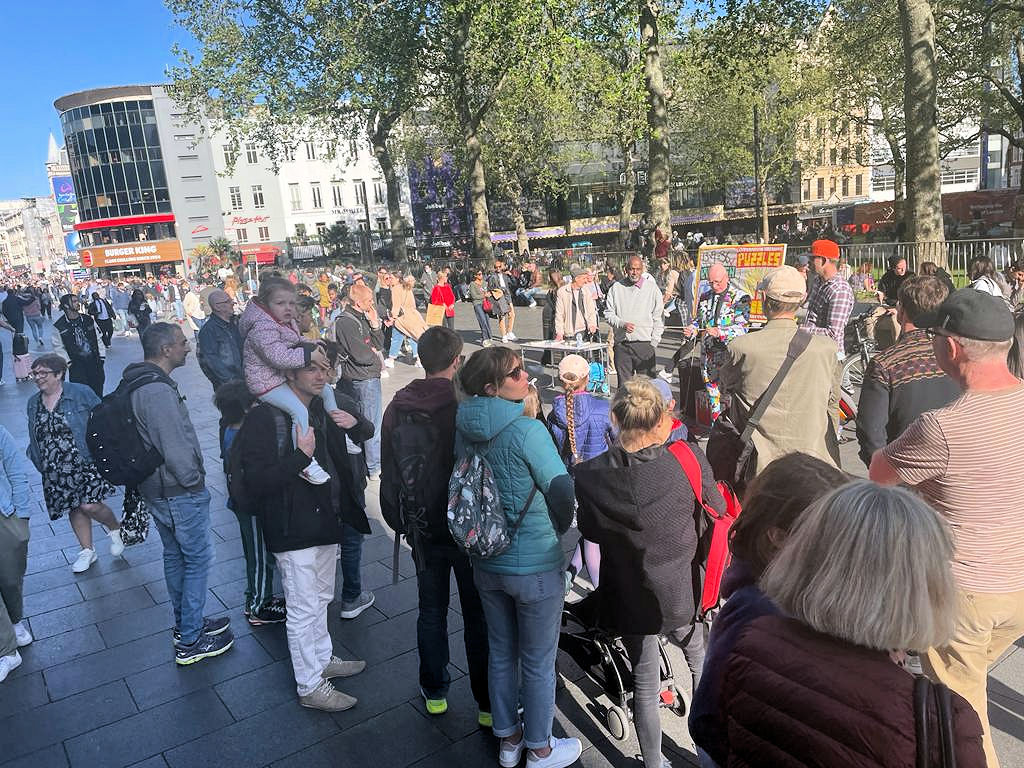 If you have played the game "Monopoly"  you will know that traditionally there are 26 squares on the board. The original game was set in London and it is this that gave the inspiration for the London Go Mission. During the week of Tuesday 19th – 23rd April two teams of Christians visited every one of these venues to share the gospel in the street.
We mainly used the sketchboard to preach. We also preached using large objects as illustrations, gospel illusions, testimonies, book table and music. And, of course, there were many conversations and literature was given away.
Each team was made up of OAC evangelists, associates and people that we had trained along with others from a fellow street evangelism mission called K180.
The two teams were tasked with visiting three places each for the first four days and then a place each on the last day. A total of 35 people took part throughout the week.
We produced special London Go Mission, Monopoly-themed, tracts and gospels that were well received by the people we met.
The days were cold but bright and in every venue there were clearly God-ordained gospel encounters. Some were with people who had never heard the gospel before. Others were with Christians who had either fallen away from the faith or the church. We also spoke to people of other religions and countries.
At the end of the week everyone on the two teams who took up the "chance" of being involved was encouraged. Nobody was "sent to jail", some may have found "free parking", but no one received £200!
Here are some snippets of WhatsApp messages we sent to one another and our prayer team during the week.
"Regents Street Corner – a security guard…searching and was captivated by sketchboard message. He admitted a real nudge from God"
"Gt. Marlborough Street – M and E. M is Muslim, E has a Christian background…we looked at the "I AM" statements in John's gospel and she accepted a copy."
"Mayfair – Z doesn't know what he believes. He accepted a John's gospel."
"Kings Cross Station – pray for T and O. Two young girls who grew up in church, but aren't currently attending one…they wanted to get closer to God…asked for advice"
"Piccadilly – M, a Muslim from Jordan, seemed tender-hearted and open…he took a John's gospel and hopes to see us tomorrow in Coventry Street."
"Whitechapel – please pray for S, a man who watched the Chemical Cross (a visual illustration) and listened to the preaching…he took a John's gospel, please pray that he reads it."
If you'd like to take part in next year's London Go Mission or join one of the regular London outreaches  CONTACT US to register your interest.