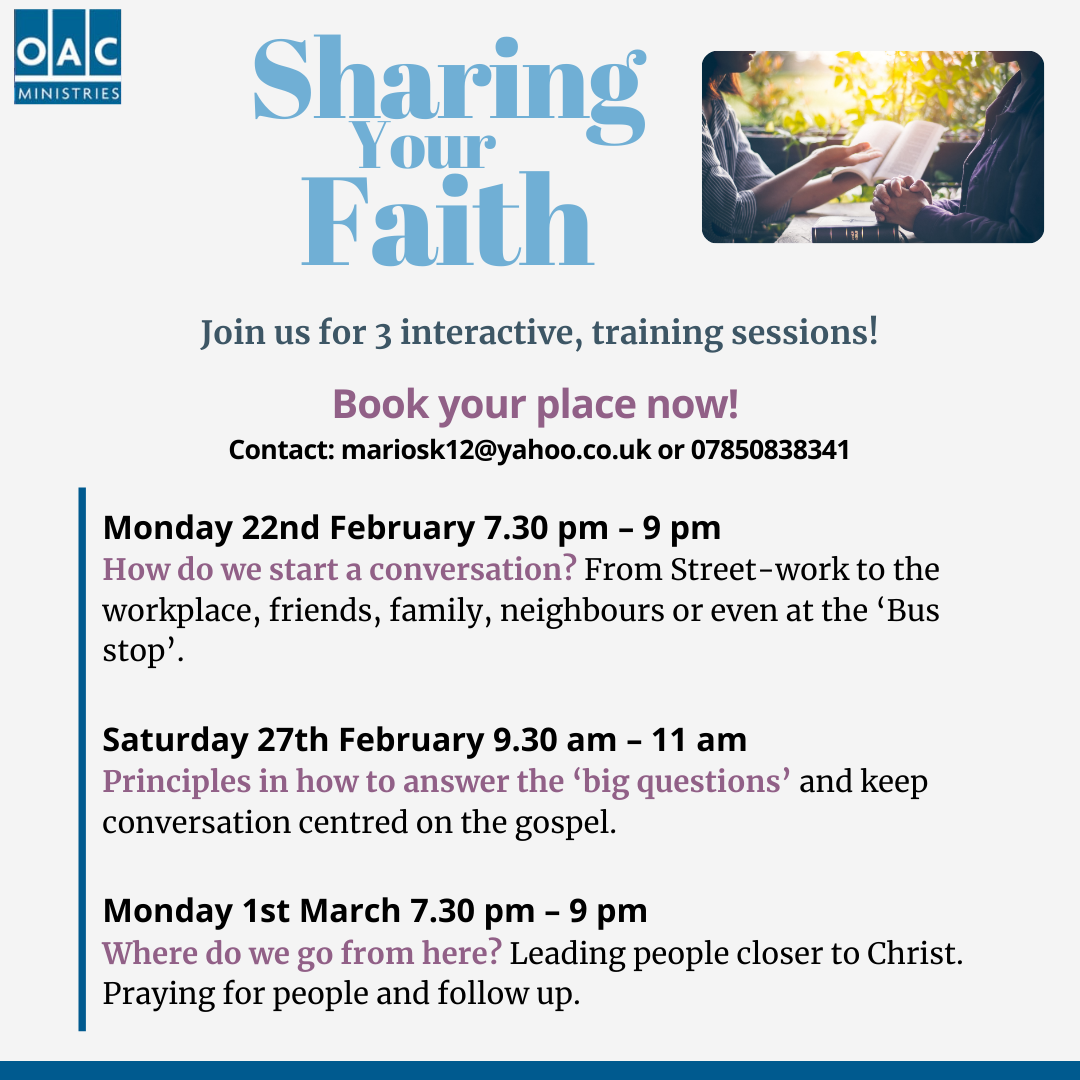 Following two successful mini missions in London in October and December, evangelist Marios Kaikitis is running a free 'online evangelism training extra' course. The interactive course is called  "Sharing your Faith" and will start on Monday 22ndFebruary at 1930.
The first session is entitled 'How do we start a conversation?' This session covers conversations on the street, at work and with friends, family and neighbours.
The second session is on Saturday 27th at 0930. It covers 'Principles in how to answer the big questions.' This session covers  how to keep conversations centred on the gospel.
The final session will be on Monday 1st  March at 1930. It looks at 'Where do we go from here?' and covers leading people to Christ, praying for people and follow up.
For more details see the flier above.
The online evangelism training extra comes about because of requests from team members on the last mini mission. The mission took place just before the December lockdown. Over 60 people from 20 different churches joined the team. They covered 24 locations in 20 London boroughs. They handed out 4000 'Light of the World' Christmas tracts plus hundreds of gospels, booklets and Bibles.
If you are unable to attend the Sharing your Faith training, but would like help reaching people with the gospel, check out our Evangelism Toolkit which will be running again in the Spring. This is also a free online evangelism training course.
If you are interested in preaching and witnessing on the streets take a look at our Streetwise evangelism training. This training course has had to be suspended due to the pandemic but it will run again as soon as we are able.
Do you want to know about our future plans for missions and training? Bookmark the OAC website and keep in touch via our social media platforms. Social media links are found at the top of the page.