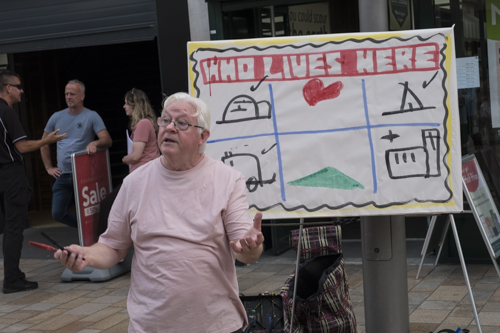 SOUTH YORKSHIRE MISSION 2021 a report by Oliver Buckley
It was great to welcome OAC Evangelists back to Sheffield for the South Yorkshire Mission.  It turned out to be one of the hottest weeks of the year. We had a total of  24 evangelists including a team from K180 . There was a good deal of excitement and a great sense of fellowship. For most it was the first time gathering as a larger team to proclaim the gospel since lockdown
We met each morning for devotions and prayer. We had 2 teams operating making use of the various talents that existed within the teams. I always enjoy the presentations from other preachers and come away vowing to polish my own delivery. It reminds me of what the writer of the Proverbs means when he says "As iron sharpens iron so one person sharpens another" (Prov 27:17).
Communicating the Good News
There are many ways to communicate the gospel to people who do not go to church but I'm convinced of the uniqueness of the sketchboard in the hands of a preacher open to the Holy Spirit. It holds the attention of a crowd and enables the gospel to be clearly presented. Our objective is to engage the public with the gospel. There were many brilliant conversations and on the whole we found people ready to engage in conversation.
We engaged over 1000 with the gospel in a variety of ways. We had one person make a commitment in Barnsley who is being followed up and several people expressed interest in meeting again. They have already been contacted with some encouraging ongoing commitments to exploring Christianity.
My main impression is the amount of people we met who were hurting in some way and some I would describe as brokenhearted. We have a message embodied in a Risen Saviour who can meet the needs of the people we encounter.
Teamwork
What is great is the way some of our team shows the reality of the Saviour's love by their actions. At one point I observed an evangelist sitting on the ground talking with a lady in a wheelchair for a long period. At the same time two others engaged with the rest of the family who were clearly hurting. In these situations I'm always proud of the OAC team. They take time to listen and engage people where they are and point people to the only source of help that is Jesus.
The week also highlighted for me the need for ongoing discipleship in believers' lives and our need to rely on God's word. I met recently with one of the people who asked for follow up. His life was a rollercoaster. The joy on his face as I explained what scripture said about him and his need to base his faith upon God's Word and not upon people's opinions was priceless.
Finally
Thanks to all those who came and in particular I want to commend the K180 team. What a great group of young people! My thanks also to St Mary's Wesleyan Reform Church who allowed us to use their building and carpark.
God willing we will host South Yorkshire Mission 2022. Perhaps you would consider joining us?
Photos below by Marten Holmes show team members preaching and talking to members of the public.