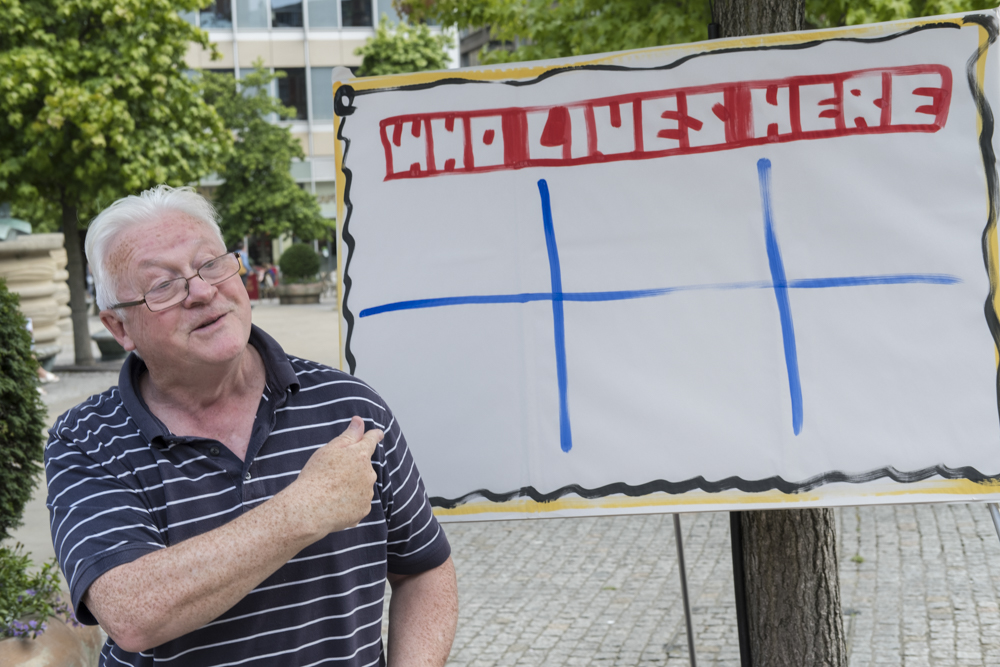 This was the second year of the South Yorkshire Mission.
The South Yorkshire Mission was based in Sheffield but we also went to Barnsley and Rotherham. We were joined by different evangelists  for parts of mission. At one point we had 16 evangelists on the streets of Sheffield.
We spoke to over 300 people and 10 people prayed a prayer of commitment. This year we worked with four local churches and had three ministers join us on the street. It was particularly helpful to have local Christians working alongside us. It meant we were able to direct people to churches and provide a point of contact for them.
There was a great sense of purpose, harmony and fun amongst the team and everyone played their part well.
There are many stories that could be told but we only have space for two.
The first took place in Rotherham on the final day of the mission where we went out in the rain. Six people stopped and listened to the gospel message. Two were spoken to by a team member and prayed to ask Jesus into their life. Two others, whom we'll call T and A, were also spoken to. One had just been released from prison and the other had a drug problem.
The following day the local minister who had been working with us had an evening service. One of the team met T and A on the street and gave them an invitation to the evening service where they got saved. They have also been enrolled in a drug rehabilitation programme through the church. We almost didn't go out because of the rain but God had other plans. That plan involved two different groups working together and for T and A to benefit from different types of outreach.
The second story is from Barnsley where OAC have been partnering with a local church since last year's mission. One of the OAC evangelists preached and a team member turned to a member of the public and asked them what they thought of the message. The person responded by saying "This message makes me feel that I should turn to God." That really sums up our intention. As we bring the gospel message to the street we are making it possible for people who would not normally attend church to turn to God. This year's mission was a good example of the OAC evangelist and the local church working together to fulfil the Great Commission.
If you would like to join the South Yorkshire Mission in 2020 ask for details HERE.