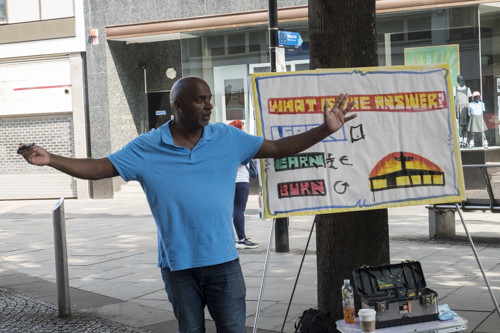 2022 is a year of evangelism training and mission opportunities.
Having developed our online evangelism training during Covid we will be offering blended evangelism training in 2022. By using Zoom for the theory part we can reduce the time spent in a classroom, which will reduce the costs. We have also planned the year so that you can move from the theoretical training to the practical training. Come and join a short term mission. So 2022 really is a year of evangelism training and mission opportunities.
Of course you don't have to take part in all of the training and missions, you can pick and mix to suit your requirements.
The next FREE online evangelism training starts on Monday 10th January. It covers all the evangelism essentials. You can see the course contents at the Toolkit page.
For those who want to learn how to use a sketchboard and preach on the streets we will be running our Streetwise program. This starts Saturday 26th February. It will hopefully run in different parts of the country. There is also a 2 day intensive option on June 16th and 17th.
On March 14th we will be running a FREE online course for those working with children. Further details will be announced shortly.
OAC have regular street teams preaching on the streets in many different parts of the country. You are welcome to go along to see them in action and decide if you would like to join as part of the team. Information on the regular outreaches is available HERE.
We also run a number of short term missions each year and look for team members to join the regular OAC evangelists. So far we have the following planned:-
London Go Mission starting on 19th April
Brighton Fringe will be one weekend in May – TBA
South Wales Mission will run 27th June to 1st July
South Yorks Mission begins on 18th July
Cornwall Mission is planned for August TBC
London prayer and evangelism walk August 30th to September 2nd
London Mission is for two days October 28th and 29th
To register your interest in either the online evangelism training or one of the short term missions please use the contact form.
Keep up to date with our plans and opportunities to be involved by bookmarking our website and following us on our social media platforms.